The Mindfulness Journal for Anxiety: Daily Prompts and Practices to Find Peace
Find peace from anxiety with daily prompts and practices from The Mindfulness Journal for Anxiety.
Mindful journaling is a powerful way to gain awareness and control anxiety. In The Mindfulness Journal for Anxiety, you'll embark on a rewarding journey to stillness and self-discovery as you confront anxiety with pen in hand.
From breathing exercises to thought-provoking meditations, these reflections and prompts are rooted in proven-effective mindfulness practices for reducing anxiety. Helping you organize your thoughts and give them structure―with ample space for real reflection―this mindfulness journal gets anxiety out of your head and onto paper where you can find peace from perspective.
Take a deep breath, grab your favorite pen, and dive in with:
Writing prompts that provide guidance for understanding the root of your anxiety, accepting its presence, and taking control of how it manifests.
Mindfulness exercises that teach you techniques for cultivating awareness and reducing anxiety in the moment.
Space for reflection that allows you to fully explore and react to writing prompts and exercises.
Embrace mindfulness and let go of anxiety with insightful prompts and practices from The Mindfulness Journal for Anxiety.
Editorial Reviews
Review
"The Mindfulness Journal for Anxiety is a magnificent, colorful, insightful, and incredibly reflective guide for everyone who seeks to understand and manage anxiety. I would recommend this book to anyone who has ever struggled with taking a deep breath and getting to the root of anxiety!"―O'Donis Person, Psychiatric Registered Nurse
"Powerful, practical and fun, The Mindfulness Journal for Anxiety gives you various exercises, meditations, and life lessons to accept and ultimately release the worries and fears that bind you. As an EMDR trained therapist, I'll be recommending this book to my clients who struggle with anxiety or obsessive thoughts. I love how accessible Tanya J. Peterson makes different therapy tools to the lay reader!"―Dorlee Michaeli, MBA, LMSW, Psychotherapist, Mental Health Blogger
"The Mindfulness Journal for Anxiety is going to help individuals living with a mental illness as well as people seeking to learn more about the power of mindfulness. As a mental health blogger, advocate, and someone living with bipolar disorder, I found Peterson's workbook to be easy to navigate with great prompts that are both helpful and inspiring. This book is going to change the lives of readers one page at a time."―Hannah Blum, mental health advocate and blogger at HealthyPlace.com
About the Author
Tanya J. Peterson, MS, NCC, holds a master's degree in counseling and is credentialed as a National Certified Counselor. Through her brand Wellbeing & Words, she helps people create their own quality life and transcend difficulties by living mindfully. Tanya writes extensively for the mental health website HealthyPlace.com, including her weekly Anxiety-Schmanxiety column. She is a prolific writer of online and print articles on mental health and a frequent speaker and radio show guest. She writes self-help books that empower people to take their lives in their desired direction. Additionally, she is the author of five critically acclaimed, award-winning novels that address mental health themes. She created a curriculum about toxic relationships based on her middle-grade/YA novel Losing Elizabeth, which she takes to both schools and community programs.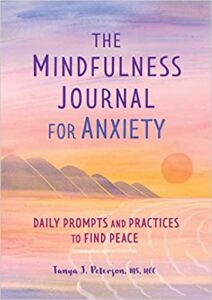 The Mindfulness Journal for Anxiety: Daily Prompts and Practices to Find Peace
Mindfulness – An Eight-Week Plan for Finding Peace in a Frantic World