Daily Meditations by James Allen – Day One
A life of virtue is noble and excellent. The way from passion to peace is by overcoming one's self.
Frequently the man of passion is most eager to put others right; but the man of wisdom puts himself right. If one is anxious to reform the world, let him begin by reforming himself. The reformation of self does not end with the elimination of the sensual elements only; that is its beginning. It ends only when every vain thought and selfish aim is overcome. Short of perfect purity and wisdom, there is still some form of self-slavery or folly which needs to be conquered.
On the wings of aspiration man rises from earth to heaven, from ignorance to knowledge, from the under darkness to the upper light. Without it he remains a grovelling animal, earthly, sensual, unenlightened, and uninspired.
Aspiration is the longing for heavenly things.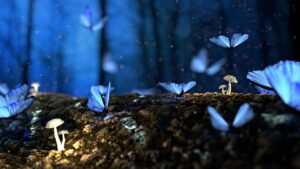 Daily Meditations by James Allen – Day Two