Heart Disease – An Overview
Heart disease remains the leading cause of death in the nation. While some cases of heart disease may have family history behind it, there is much that we can do to prevent heart disease in the future.
A basic understanding of heart disease is a good place to start.
Coronary Heart Disease
When the small blood vessels of the heart become clogged, it causes narrowing of these blood vessels. Plaque will build up and cause what is known as hardening of the arteries.
When fatty materials begin to deposit into the arteries, it becomes difficult for blood and oxygen to reach the heart through those pathways. The end result is that the heart cannot receive vital blood and oxygen and a heart attack may occur.
While many factors such as family history go into coronary heart disease, there are also ways to prevent or diminish the chances of this illness. Since heart disease is the number one cause of death in both women and men, learning as much as you can about preventative measures is a wise and healthy choice.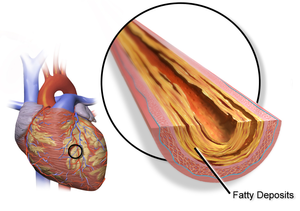 Symptoms
Some symptoms that you should be aware of when it comes to the health of your heart may be noticeable, while other symptoms are subtle. In either case, if you have any kind of symptom, a visit with your doctor is imperative.
·        Shortness of breath
Shortness of breath could develop from anything from heart disease to asthma. If you are short of breath, do not hesitate to visit your physician. You may be able to ward off something more serious in the future. Do not take it for granted that you are just getting on in years. Visit your doctor.
·        Dizziness or fainting
Dizziness or fainting are symptoms that something is amiss in your body. If you have both dizziness and fainting and shortness of breath, this warrants an immediate visit to your physician. Do not put it off.
·        Pressure
The pressure associated with heart disease is a tell-tale sign of something wrong. Pressure in your chest or in your arm, neck, and shoulders could be indicative of heart disease.
·        Fatigue
Sometimes we view fatigue as something that will go away on its own. However, if you have fatigue, it could be your body warning you that something is going wrong somewhere down the road. You may be able to ward it off if you act early enough.
Visiting Your Doctor
If you have any or all of the symptoms listed above, a regular check-up will not hurt you. It is better to be wrong and say something than to be right and saying nothing. Your doctor has many ways of evaluating you:
An electrocardiogram
An echocardiogram
A Heart stress test
A Heart CT scan
These are just a few of the many things available.
Once the diagnostic tests are complete, your physician can properly treat your particular situation. However, as with any other disease, act early to prevent a worsening situation later.
Contents
Heart Disease – An Overview.. 1
A basic understanding of heart disease is a good place to start. 1
Essential Oils for a Good Night's Sleep
Mindful Music Meditation Ambient Angelic Soothing Voices