Reducing Stress with Essential Oils
Reducing stress is probably one of the major afflictions that most people attempt to reduce in their daily lives.  Stress is a contributing factor to illness in disease in busy people who do not take the time to relieve their bodies of the stress that accumulates throughout the day.  Essential oils used in aromatherapy help reduce stress levels and keep you healthier and happier during the day and in your overall life.
It has been said that stress is the number one killer for people under the age of 40.  Even if you think you have your stress levels under control, you can always benefit by reducing stress with essential oils.  The health benefits alone are worth your while to try aromatherapy.  It is a non-evasive way to reduce stress and relax your mind so that you can sleep better and relax during times when emotions may get the best of you.
Essential oils are a good way to balance your stress and give your body an emotional overhaul.  You can even use essential oils at work to help reduce stress as it increases throughout the day.  Your work environment is probably the most stressful part of your day, so using essential oils in aromatherapy in your office can help calm and relax you during your workday.  Office aromatherapy is a pivotal positive therapy for your body and mind, especially during busy days.
Even if you don't go to a corporate job, home life can also be stressful.  Keeping essential oils in your home using aromatherapy can keep the stress of maintaining a clean, proper home at low levels.  Essential oils are harmless to children as well, so you can keep the aroma from the essential oils burning throughout your home without harming any family members.
There are several types of aromatherapy essential oils that can be used to reduce stress.  Although each of the following oils has their individual benefits, combining them bring an overall high level of therapy for your stress levels.  Beneficial essential oils are Basil, Juniper Berry, and Geranium.  A second combination that is equally beneficial is a mixture of Chamomile Maroc, Lavender French, and Sandalwood Agmark.
Basil
Basil can help clear your mind from stress and strengthen your body and spirit.  It brings clarity to your mind that is beneficial for your daily chores.  Basil is an ancient therapy used to revive personal well-being and emotional peace.  Basil can make you feel strong throughout the day, and it can keep your body maintained with an overall mindful awareness of your emotions keeping them in check.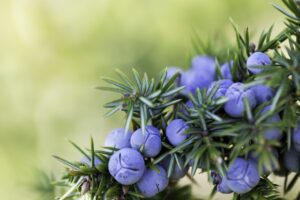 Juniper Berry
Juniper berry is a strong scent that fortifies the mind and body.  It is a distilled berry from a Juniper tree that brings a pungent and effective fragrance.  Juniper berry is also a well-known fragrance that can eliminate and clear toxins from your body's system and it soothes the muscles and joints.

Geranium
Geranium helps stabilize your body and mind bringing a balance of emotions and stress levels.  It nurturing fragrance makes you feel as if you have removed all the bad in life and disbursed it out of your body and into your surroundings.  It is especially beneficial to those who feel like their emotions are a roller coaster and out of control.  It has a flowery scent and it blends with almost any of the other essential oils.
Although each of these essential oils is highly effective individually, using them in combination can greatly increase your ability to remove stress and help your body heal from the emotional drama.  Although essential aroma aromatherapy is not a perfect solution, it can give your body a complete overhaul from stress and harmful emotions.  Give these combinations a try and you will notice a difference within just a few days.  Use them in the office and you will notice your attitude towards people and life itself will completely turn to a positive outlook.
Essential Oils for a Good Night's Sleep
Mindful Music Meditation Ambient Angelic Soothing Voices